Tracking pixels are small snippets of code that allow you to track user behaviour on your event page. When the pixel is fired, it sends data back to be logged. The data can include things like browsers, IP address and how long a user has been on a page. These pixels have no effect on the visitor's experience, and are very helpful in quantifying your digital marketing efforts by tracking specific page visits, number of tickets in the checkout, ticket type, currency and order completion.  To learn more about conversion tracking and detailed instructions on how to set it up, visit the Facebook Advertiser Help Centre and the Facebook Implementation Guide.
Install your Facebook Pixel directly into EventChain to track your conversions.
Create a pixel.
Login to Facebook and navigate to your Ads Manager
Click the Ads Manager menu in the top left, then select "Pixels". If you don't see "Pixels" click "All Tools" then "Pixels" under "Measure & Report"
If you do not have a Facebook Pixel created, follow the steps to create a pixel. 

Click "Create a Pixel" or select "Actions" and "View Pixel Code" on your existing Facebook Pixel.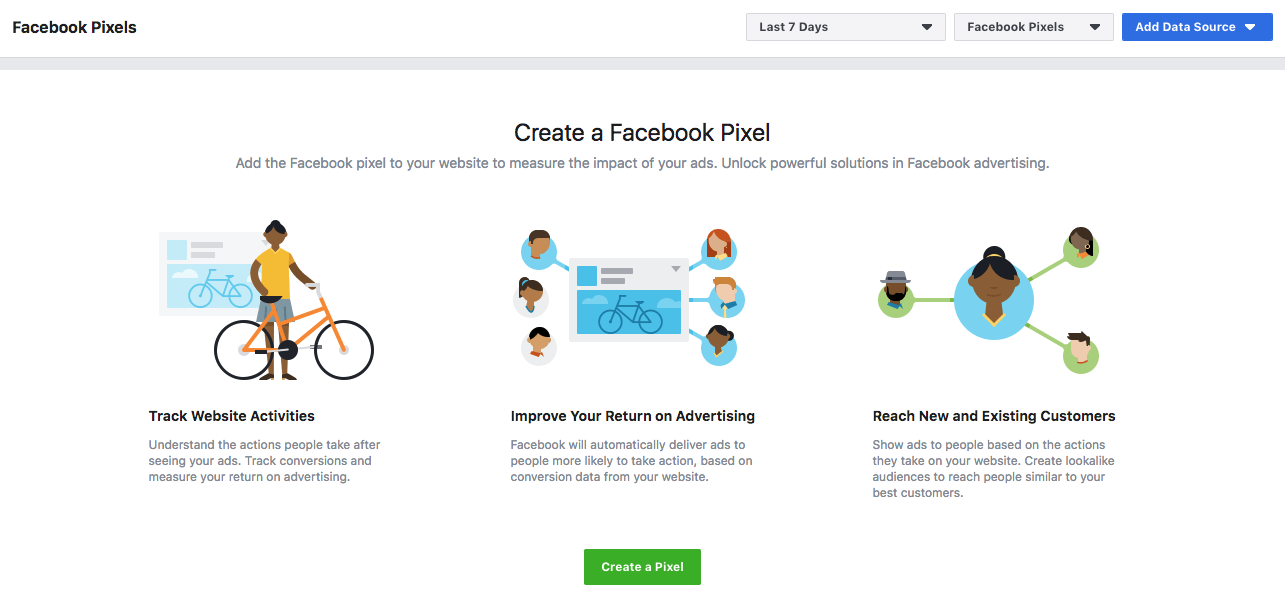 Name your Facebook Pixel.
Give your Facebook pixel a descriptive name, then review and agree to the Facebook Pixel Terms. Finish by clicking "Create Pixel."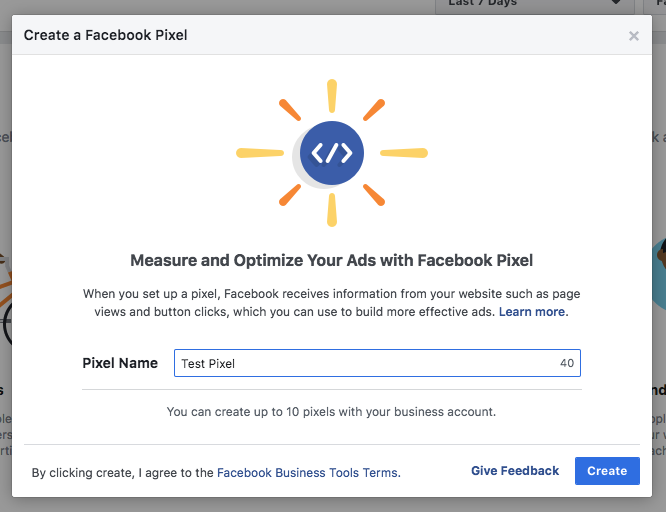 Save your Facebook pixel ID.
You'll then see three options "Select a Setup Method." Choose "Manually Install the Code Yourself." 

On the next page, under step 2, you'll see pixel code. Your Facebook pixel ID is located in the value "fbq('init', 'xxxxxxxxxxxxxxxx'). You can also find it in the value "src="https://www.facebook.com/tr?id=xxxxxxxxxxxxxxxx" 
Copy and add your Facebook pixel ID number to your event page.
If you had previously setup your pixel ID, you will see the ID as the string of numbers under your Ad Account name, beside "Facebook Pixel ID".
Highlight and copy that string of numbers (CMD or CTRL + C)

Navigate to Manage Events / My Events and select the event you want to track.
Open the "Analytics" tab and paste the Pixel ID into the Facebook Pixel input & click "ADD"

You should see data starting to be tracked within 24 hours.
NOTE: If you do not see data within 24 hours then please check that you have the correct pixel installed or contact support.
What data does EventChain send to Facebook?
We send standard event data to Facebook for the following events.
Standard Events
PageView & ViewContent: All public event pages event detail pages
AddToCart: When adding items to cart
InitiateCheckout: Landing on the order checkout page
Purchase: Purchase is completed
Custom Events
AddToWishlist: Event added to user's wish list
Limitations
Site visitors who view your event pages through secure browsers that block analytics tracker or with  common browsers like Chrome, Firefox and Safari in a private or incognito mode window, will not send analytics data back to Facebook.  This is beyond EventChain's control and is intended to provide anonymity and security to those users wishing not to be tracked.